3/8" x 19 BSPT HSS Die Nut - Goliath
Part Number: FH83XHJ
Hexagonal HSS Dienut for External Threads
| | |
| --- | --- |
| Diameter (inch) | 3/8 |
| TPI | 19 |
| Pack Qty | 1 |
| Barcode | 9349009028068 |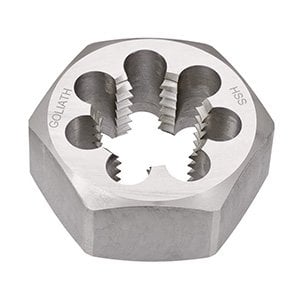 High Speed Steel (HSS) Dienuts
Goliath solid High Speed Steel (HSS) Dienuts are used for cutting of new threads as well as extending / cleaning / resizing of existing threads where a button die is not suited due to work space restrictions and / or on site thread accessability. HSS Dienuts have a vastly longer tool life than Carbon dies as well as producing more accurate threads.
BSPT
BRITISH STANDARD PIPE TAPER (RC SERIES PIPE TAPER)
This is based on the Whitworth thread form - a symmetrical V-thread with an angle of 55°. BSPT has been widely adopted internationally for interconnecting and sealing pipe ends by mating an external (male) with an internal (female) thread. The thread diameter increases along the length of the thread allowing the coupled pipes to form a seal when torqued as the flanks of the threads compress against each other. The taper is "1 to 16", meaning that for each 16 mm increase in the distance from the end, the diameter increases by 1 mm.