| Part no. | Description | Size Range | Packaging | Shank |
| --- | --- | --- | --- | --- |
| 2210-822 | E-Z Chamfer | 8-22MM, 5/16-7/8" | Clam Shell | 1/4" |
E-Z Chamfer®
Create a perfect chamfer for starting a nut on a bolt or threaded bar, starting a button die or die nut on rod, or creating a leading edge on timber dowel. E-Z Chamfer efficiently removes burrs and ridges from bolts, pipe, threaded rod, bar and dowels. It is suitable for use on metals including mild and hardened steels, stainless steel, copper and brass, as well as timber, fiberglass and plastics.
E-Z Chamfer prevents sparks and burns. When used correctly at low RPMs the tool will not overheat the workpiece. Threads and burrs are sheared off creating the perfect chamfer for starting a nut or threading die.
Unique patented design!
World first M2-HSS Chamfer Tool!
Videos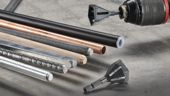 E-Z Chamfer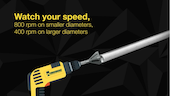 E-Z Chamfer Motion Graphic